Getting To Know Keyona Calloway
Mon, Mar 9th, 2015 | by lmurray | Get to Know our Neutrals | Social Share
Written by Jamie Miles
As receptionist for Miles Mediation, Keyonna Calloway is often the first face visitors see. "I make sure things are handled right. Whatever the client needs, I'm here to accommodate them." She added with a laugh, "I'm the friendly face of Miles." Keyonna sees her role as one that sets the tone for the rest of a client's day. "Some people just need a smile sometimes."
Raised in Atlanta, Keyonna will turn 21 this April 20. These days, she works weekdays at Miles until 2:30 p.m. Her afternoons spent in class at Georgia Perimeter Dunwoody Campus. After accumulating enough course credits, Keyonna plans to major in International Business at Kennesaw State with a minor in Communications.
Attending S.W. DeKalb High School, Keyonna spent her first semester in the ROTC. She enjoyed traveling with the group but soon she wanted a new challenge. Her second semester, she joined the band. S.W. DeKalb has a long tradition of excellence in music and the marching band is no exception.
Starting out on clarinet, she found the clarinet section around 60 strong. This is one huge band. The larger sections lacked the intimacy of the smaller sections. "I wasn't getting to know my section leaders. Although I was enjoying myself, I felt like a number. "
Keyonna soon found herself recruited away from the clarinets by the baritone French horn section. She quickly mastered this new instrument. By the end of her freshman year, she was selected drum major. This was quite an honor and Keyonna was the only female of six drum majors. She said with a laugh, "Everyone was like 'Where did this girl come from? She's been in band less than a year. How did she become a drum major?'"
Check out this video of the S.W. Dekalb Marching band; Keyonna is the 2nd from left drum major: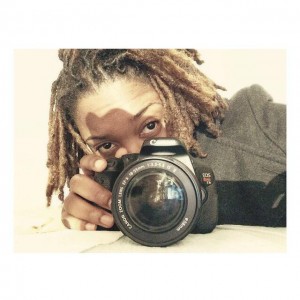 Making drum major was a turning point for her. "From that moment on I started to develop myself. Taking on that leadership position, I found out a lot about myself."
The band was quite large, as many as 350 marching Panthers her freshman year. In 2011, Keyonna and the Marching Panthers travelled to Southern California and performed on New Year's Day in the prestigious Rose Bowl Parade.
After graduating from high school in 2012, Keyonna started college at Alabama A&M University. Unfortunately at the end of her freshman year, finances and financial aid concerns led her to come home to regroup and figure out how to proceed financially with her collegiate plans.
Once back in Atlanta in her free time, Keyonna took photographs and posted them on social media platforms, such as Instagram and Facebook. People had very positive reactions to the photographs on her phone. She said laughing, "I was like . . . really? It's just a picture."
After seeing post for a short film company looking for set photographer, Keyonna emailed the producer. After seeing some of her photographs, she was hired.
Her first day on the movie set was a little bit overwhelmed. "It was like 'wow.' These people are for real. They had dollies, lighting, make-up chairs. I had to step up to the plate. and do my job well." Keyonna added with a smile, "So by the end of the day they loved me."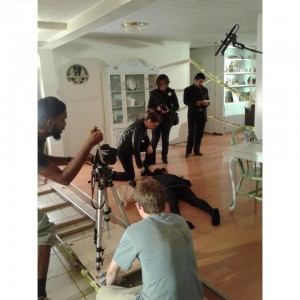 As set photographer, she took photographs of action behind the scenes during filming. Two of the short films she worked on, Yield and Almost There, were entries in the recent TPN Film Festival in Atlanta. "Since then I have a lot of people who want to work with me. I'm really excited for what the future has to hold with her photography."

Starting back to school in January, Keyonna has two classes this semester and is excited to be in the classroom. Working part time at Miles helps her stay focused. "During my down time, I have the opportunity to study – Sydney and John are so understanding."

When asked what surprises her most about her job at Miles she said, "I'm surprised by the things I'm learning. Like the importance of the small things and making sure the details are done right. " She added, "I didn't expect everyone to be so nice. The lawyers were kind of intimidating. But everyone has been so friendly and encouraging. It made me appreciate this job more than I was expecting too."

An only child, her Aunt Gwen has been her guardian since eighth grade. Keyonna expressed her gratitude for such a positive work environment. And with plans to be a future business owner, Keyonna appreciates how John encourages her questions about running a business. Whether her future includes photography, international business or some yet to be discovered passion — Keyonna is focused on the positive. "I know that I am going to keep going forward. I'm very passionate about wanting better things in life."

We all look forward to see what the future holds for this talented and inspirational young woman.